Joanna Frankham helps you to make lasting diet and lifestyle choices that serve you. She is an AIP mentor and Certified Health Coach who uses rituals and group programs (like her foundational AIP Reset group program, which BTW you can save 15% with the code PALEOMOM) to help you break down the AIP framework into manageable pieces so as enable you to implement positive changes to improve your health. Jo's special sauce is her ability to facilitate bringing AIPers together in a way that is informed, inclusive and encouraging. Chronic illness doesn't have to be isolating.

You can connect with Jo on her site, on Facebook and Instagram.

---
I've been kicking around this planet for fifty years, give or take. And, I've been following an AIP way of life for over five years. I see it as an evolution (rather than a revolution).
The Autoimmune Protocol E-Book!
One of my FAVORITE books I used to start the transition to AIP!!! It's so helpful! I printed mine out and spiral bound it. Thank you for this! -Rita Davidson
The Autoimmune Protocol e-book is your up-to-date guide to jump-start your healing with the AIP today.
3oo+ pages of quick-access information on the AIP

4 weeks of meal plans with shopping lists

over 80 family-friendly recipes, all 100% AIP!
Get instant digital access for $19.99
I still regularly fall off my AIP wagon.
Let me give you a bit of an overview of my formative years…
I was born in Auckland, New Zealand. I was the first of three children and had a happy childhood. Lots of running around outside – barefoot – in the fresh air, a focus on whole food (thanks to my German Mum), and lots of love. There were some early health issues – I had a couple of eye operations when very young to correct a squint. When I was 9 years old, I contracted Scarlet Fever, which developed into quite a serious case. As a result, I was hospitalized and fed a heavy-duty cocktail of antibiotics as part of my recovery.
As a teenager, I suffered from very bad acne. After antibiotics failed to treat my poor skin, I was prescribed Accutane, a form of vitamin A, which is used to treat severe nodular acne. If I knew then, what is now known about the potential side effects of this drug, I would never have taken it. Oh – and because I was on Accutane, I was also required to be on birth control, too.
In my early twenties, while living in London, I started experiencing painful lumps in my groin. These developed in frequency and severity over the ensuing 20 years (and, yes – I do mean two decades!). Despite visiting a number of doctors and specialists over the years, my painful and disfiguring skin condition was never diagnosed. And, because I was so ashamed of my 'skin issues', I never talked about them to anyone. To be honest, it remains difficult for me to articulate the effect it has had – both physically and emotionally.
My thirties were spent in high-stress corporate roles. I spent time living in New Zealand, Australia and England, and traveled extensively through North America, Europe and parts of Asia. This had a toll on my quality of sleep – which started to creep down, and my weight – which started to creep up. I also experienced a home invasion, which further affected the quality of my sleep.
The Gut Health Guidebook!
The depth of information, practical tips, and the accessible way Dr. Sarah shows me how to apply complex science to improve my health is truly remarkable. -Wendy
The Gut Health Guidebook is the culmination of 6 years of research. This unprecedented deep dive into the gut microbiome delivers:
A new diet for gut health, built from the ground up

Essential gut microbiome superfoods

20 Keys to gut health
Get instant digital access for $27.99
When I turned 40, I decided it was time to take a more proactive role in my health. This is a watershed age for many of us, and I was certainly no exception. I was disillusioned with seeing doctors who implied my skin issues were my fault and who could offer no solutions. Taking ownership of my health was one of my better decisions and it ultimately led me to the Autoimmune Protocol.
So, where was I when I started AIP?
Late in 2013, I stumbled across an article on Mark's Daily Apple. It was a guest-post written by Tara Grant. Frankly, it changed my life. Tara gave my skin issues a name, Hidradenitis suppurativa (HS). And, perhaps even more importantly, she gave me hope. She also introduced me to the idea that my diet and lifestyle choices may be affecting my HS symptoms (something no doctor had ever suggested) and introduced me to Dr. Sarah's, Autoimmune Protocol
At about this time, I found a wonderful doctor who was trained in functional medicine. I undertook a number of tests and discovered that I had issues with extremely low vitamin D levels, MTHFR, Pyrrole disorder and a parasite infection – Blastocystis hominis.
I was also having annual colonoscopies due to abnormal tissues (I have a strong family history for bowel cancer). And, I didn't know it yet, but in September of 2014, I would require periodontal surgery after a particularly nasty gum infection.
I made the decision to start my AIP caper after first treating my parasites. This took a little longer than I had anticipated. They can be resistant little blighters!
The elimination phase of my AIP caper
When I started AIP in January 2014, I was not new to an ancestral approach to eating. I had been experimenting with more healthy dietary choices for some time. My partner, David and I were dairy-free and I had been dabbling with a gluten-free approach. I knew vegetables were my friends and I was already an avid farmers market shopper.
David and I held a pow-wow to discuss how we would approach the elimination phase, and what it would mean for our social life. At the time we were dining out 3 or 4 times a week. I needed him on board and I consider myself so lucky that I had his absolute support (and still do).
I went all-in with the elimination diet.
*NEW* The Gut Health Cookbook!
The Gut Health Cookbook is fantastic! Thank you for researching and creating The Gut Health Cookbook! Such wonderful recipes! I'm so excited to try them all! -Sue
The Gut Health Cookbook puts the 20 Keys to Gut Health into practice with:
180+ recipes featuring 61 gut health superfoods

Gut health food lists

Why's behind each gut health superfood
Get instant digital access for $27.99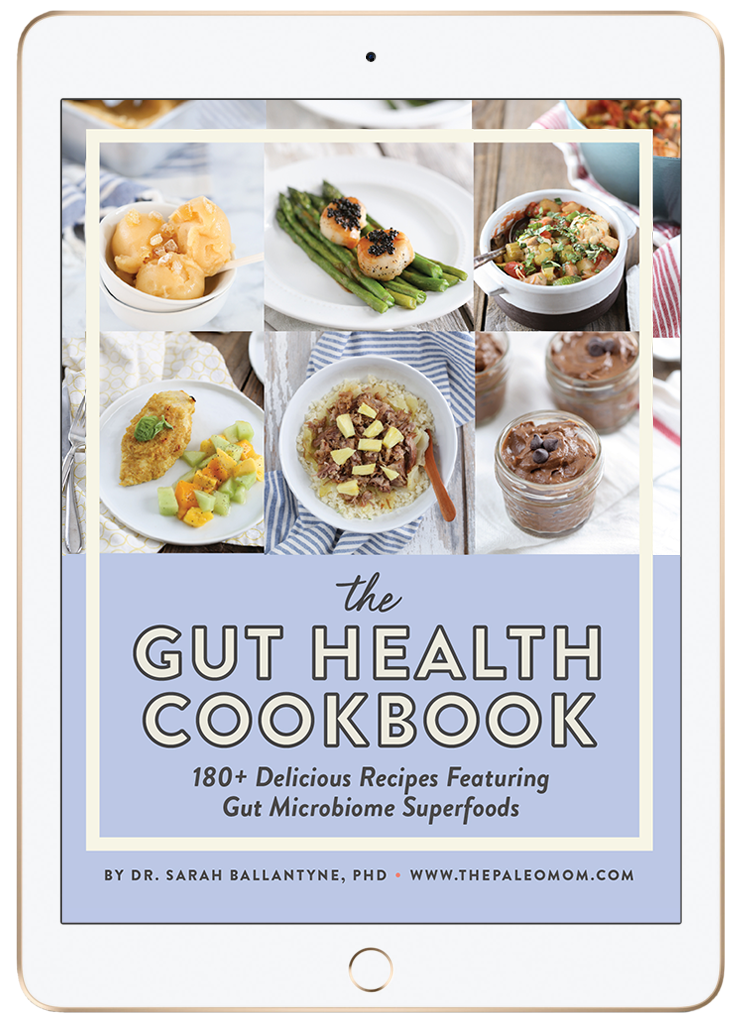 After 10-weeks in elimination, I wrote this update. In a nutshell, the results were incredible:
While I was certainly spending more time in the kitchen, I was actually enjoying it

My vegetable consumption had sky-rocketed

The quality and quantity of my sleep had improved

I was more pleasant to be around; less anxious

My 23 years of chronic and painful skin issues were completely gone. GONE!

I was 6 kilos ( a little over 13 pounds) down in weight
I remained in my elimination phase for 9-months (although even then, I had moments of falling off the AIP wagon. This AIP caper takes effort and we're playing a long game. I think it helps to remember this)
Post elimination
In my experience, it is very common for many of us to start this AIP caper thinking it's all about the diet. And, in the beginning, this is certainly important. It's just not everything.
For me, the dietary aspect of the protocol is actually the easy bit. It's quite prescriptive. I'm good at tracking in my food and mood journal. Reintroducing foods was a fairly systematic process for me.
What I struggled with most were some of the lifestyle aspects. If I'm being honest, I remain a work in progress with these, in particular, stress management and movement. I'm naturally both a worrier and a bit of a sitter! Give me a good book and I'll be happy for hours.
And, I also struggled with straying from my personal AIP template when life got in the way.
The genesis of AIP Reset
In early 2016, I hit a wall after a particularly stressful period of time. My energy levels were non-existent. I just couldn't seem to recharge my batteries. After undertaking an early version of a DUTCH test, I discovered that my cortisol levels were flat-line. My doctor couldn't understand how I was actually getting out of bed.
My poor stress management was catching up with me in a major way.
The Gut Health Collection!
I love Dr. Sarah's passion for educating people and helping everyone on their journey to wellness!! -Mindy
The Gut Health Guidebook delivers a comprehensive deep dive into gut health, building a new diet for optimal health from the ground up, based on the gut microbiome.
The Gut Health Cookbook puts the scientific framework into practice with 180+ delicious recipes that each center on at least one of 61 gut health superfood ingredients.
Save $10 with the Gut Health Collection!
My response to this was to take my diet back to AIP 101 and to focus my energy on self-care in a way I had never done so before. Until this point, I had specialized in paying lip-service to the stress management component of the protocol. (I have both a degree and an ongoing interest in psychology, but still I had been kidding myself that understanding the importance of managing my stress was the same thing as doing something about it. What a duffer!)
It was the wake up call I needed.
Later that year, I mentioned the idea of an AIP Reset to my subscribers, and in September, 127 people signed up to join me. That was the beginning of what has now become a foundational program in my coaching practice and I still regularly undertake an AIP Reset myself. It's a dedicated 30-days where you can recalibrate your AIP baseline and (re)find your AIP groove with other experienced AIPers to support you.
Where am I now?
The AIP framework remains the baseline template for my health. Following my personal AIP way of life has been responsible for significant improvements in my health:
One year after periodontal surgery and the very real chance I would lose teeth, my gums were declared healthy and I experienced bone regeneration (

oil pulling

and a

nutrient dense diet

remain my health friends). My gums remain healthy.
Despite a strong family history of bowel cancer and 4 consecutive years of abnormal colonoscopy results, in 2015 my colon was declared 'clean as a whistle'. My most recent colonoscopy result was clear.

I now only require this procedure every 5 years.
My sleep is incomparably better. Granted, I am a bit of a Nana about my bedtime routine and I track my sleep quality and quantity on my

Oura ring

(BTW- you can use the coupon code paleomom to save $50).
I have developed a number of daily rituals and routines to support my commitment to making my health a priority. One of my favourites is my

Morning Ritual

.

My mood is more constant. I am less anxious.

I have a clear sense that I am a full participant in life, rather than merely an observer

People comment on how great my skin looks (and this is a huge deal when you experienced chronic acne as a teenager and suffer from over quarter of a century with a chronic skin affliction)

A passion (and purpose) for living my life in a way that serves me

While my HS is not in complete remission, it is now something that is under my control
What hasn't changed?
What hasn't changed is my tendency to stray from my version of an AIP way of life when life gets in my way; to fall off my AIP horse.
Usually, it involves some sort of tipping point. I let things slip a little; I relax my guard and before I know it, my bed-time is later, my stress management is compromised, and I'm eating a few too many treats. Maybe you can relate?
Most recently, it was the indulgences of an AIP-esque Christmas coupled with having house-guests for an extended stay. My HS symptoms have flared and I know I need an AIP Reset.
So, that's what I'll be doing in February. Joining fellow AIP Resetters as we (re)find our AIP groove together.
Want to join us?
I'm a firm believer in personalizing this health caper; making it your own. How else will you commit to making long-term changes that serve you?
I find it's easier to achieve our goals when we surround ourselves with others who get it; fellow AIPers who understand what we are working towards and then help to lift each other up along the way.
The Paleo Template E-Book!
Thank you, for pushing the best, most relevant research, for making it relatable to anyone who does not speak the language of scientific research. -Meghan
The Paleo Template e-book is your accessible, practical-focused Paleo diet and lifestyle resource.
250+ pages of quick-access information on the Paleo template

4 weeks of meal plans with shopping lists

over 90 family-friendly recipes!
Get instant digital access for $19.99
If you're looking to (re)find your AIP groove, I invite you to join me and other fellow AIP Resetters in February. I'd love to have you along for the ride.
To learn more about AIP Reset, click here (and don't forget to enter your coupon code: PALEOMOM at check out to claim your 15% discount!)