Maria is the blogger behind the Zesty Paleo website. As a Hashimoto's patient for more than a decade, Maria has constantly been taking steps to improve her quality of life, including nutrition and lifestyle choices. Having received training in both, conventional and alternative medicine, Maria uses the knowledge she gained for cooking healing meals. In her kitchen, Maria creates simple yet flavorful recipes!
---
To me, recipe development is comparable to painting a picture, where food is its colors and imagination is its brush. With this approach, anything is possible! And of course, knowledge of culinary techniques comes in handy in recipe development.
But for the purpose of this article let's leave imagination out of the picture and focus more on ingredients and culinary techniques as they relate to the ice cream making. It all begins with an ice cream base. Classic ice cream base usually consists of cream or milk, sugar and some sort of a thickener. A liquid in the form of cream helps to freeze ice cream, while the concentration of sugars and other substances work as bonding agents. Moreover, the cream helps to create building blocks in ice cream as it gets in between ice crystals. Sugar helps to minimize the point of congelation thus making ice cream smoother and easier to serve. Finally, thickeners, as the name suggests it, assist in thickening ice cream.
The Ultimate Support for Your AIP Journey!
Thank you for your warmth, your AIP mastery, and your dedication to answering each and every one of our questions with such kindness and attention to detail. Thank you for teaching the science behind the principles. The amount of energy you put into creating this course and responding to us in real-time is felt and APPRECIATED!!
-Nicole Wood
The next session of The AIP Lecture Series begins January 10th, 2022.
The autoimmune protocol makes it challenging to enjoy traditionally made ice creams as none of the above-mentioned ingredients are allowed. Luckily, many ingredients can be replaced by their healthier alternatives. And, in the case when there is no perfect match, it's usually a sign to get more creative and this is where the real fun begins!
Now let's talk about how you can make AIP-compliant ice cream at home:
Cream
Animal-based milk is one of the most common allergens, therefore it should be avoided if you have a leaky gut condition. Luckily, it's very easy to replace it with coconut cream or full-fat coconut milk. "Full fat" is important here, because it adds smoothness and improves flavors.
Sugar
Apart from using AIP-compliant sweeteners, such as honey, maple syrup, and dates, I recommend using bananas. I like the fact that their texture and sweetness contribute to the overall smoothness of ice creams. Plus you'll need less added sugar (if any) while using bananas or other, sweeter fruits.
The Gut Health Guidebook!
Diet and lifestyle to nurture your gut microbiome and heal leaky gut!
The depth of information, practical tips, and the accessible way Dr. Sarah shows me how to apply complex science to improve my health is truly remarkable. -Wendy
Thickener
Use arrowroot starch or tapioca flour to add more thickness. Even better, use of certain fruits and vegetables provides a lot of creaminess. Some of my favorites are bananas, avocados, mango & pumpkin.
Nutrient Density
This ingredient is often overlooked in traditional ice creams, yet there is no reason not to enjoy "good for you" ices! I am convinced that ice cream can be one of the healthiest meals you can enjoy, so long as it is nutrient dense! For this reason, I literally load my ice creams with fruits & vegetables, proteins (including animal ones, in many of my savory scoops), herbs & spices! I also like to add collagen as, in addition to being nutrient dense, it makes ice cream airier and adds to its texture, as it builds in between ice crystals.
Crystals and Air
These are the cheapest ingredients and they are totally AIP compliant! But how do you introduce air and crystals into ice creams? It can be naturally done through
churning:
An ice cream maker is essential for the creation of most ice creams and frozen yogurts. In fact, churning has one amazing quality: it incorporates air, thus moving crystals away from each other, resulting in a smoother texture. Besides, churning makes water in ice cream mixture to form lots of tiny crystals. For example, If you make the same ice cream base and freeze half of it as a popsicle and run another half in an ice cream maker you will see the difference. The texture of popsicles will come out harder comparing to the mixture run in an ice cream maker, even with similar ingredients being used. This is because crystals in ice cream are relatively far, while in popsicles they are glued to each other. Besides, crystals in popsicles are larger comparing to ones in ice creams.
and chilling:
The Gut Health Cookbook!
180+ delicious recipes featuring 61 gut health superfoods!
The Gut Health Cookbook is fantastic! Thank you for researching and creating The Gut Health Cookbook! Such wonderful recipes! I'm so excited to try them all! -Sue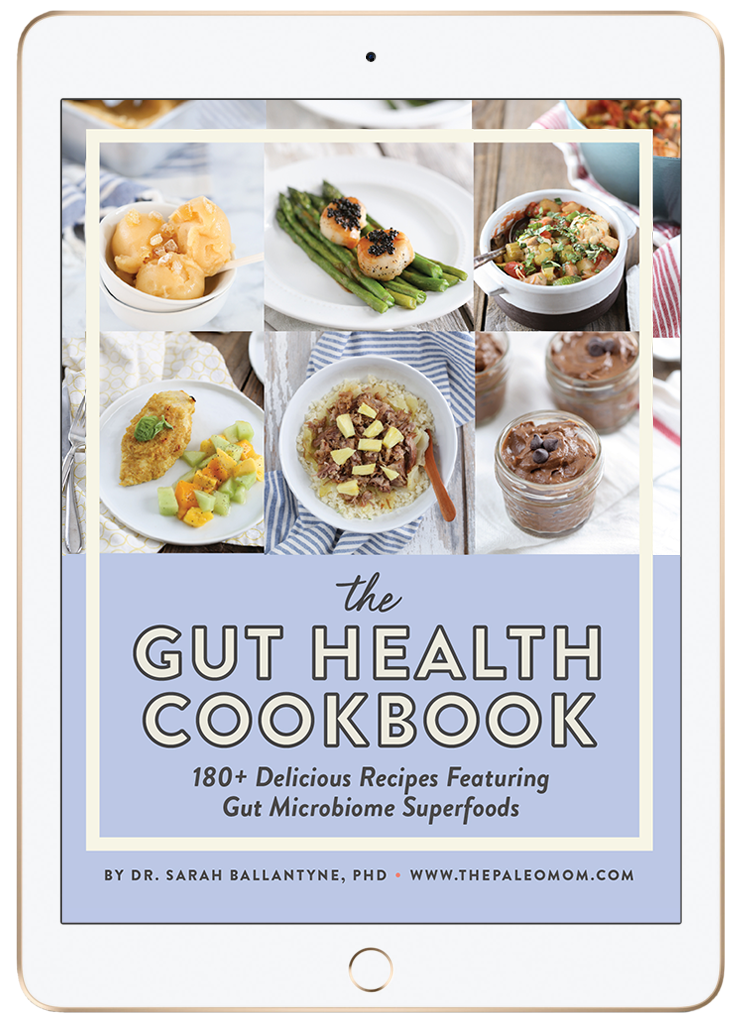 Prior to churning make sure to chill ice cream mixture thoroughly in the refrigerator, for at least 1 hour. The colder the mixture is before you put it into the machine, the better. Since it will not have as far to go to get from chilled to frozen as it would from room temperature to frozen, the chance of large ice crystals forming in ice cream is reduced.
Soft serve has it all! This is where ice cream maker is NOT essential! Due to the fact that air and crystals are already introduced into frozen fruits, running them in a high-powered blender or a food processor is enough to get a tasty treat! To make your soft-serve smoother, combine berries with creamier fruits, such as bananas, avocados, etc.
Want to have even more fun with Ice Cream?
Zesty Scoop is my collection of savory and sweet ice creams, sorbets, and frozen yogurts. This book will take you beyond sweet summer treats as inside you will find out some savory ones, such as bacon ice cream, coconut aminos ice cream and so on. You will also learn about my signature, sauce-based savory "ice cream" dressings that you will be able to enjoy with your salads and other meals. Apart from savory ices, you will find out flavorful, fruit-based scoops that you will be able to enjoy "as is" or as condiments to accompany your meals!