I've had a number of questions lately from people who are considering following the Paleo diet, but feel that they can't "do Paleo" because they have barriers to obtaining the high quality foods that are the pinnacle of Paleo perfection. Some people face financial barriers and simply can't afford to buy all (or any!) grass-fed or pasture-raised meat, eggs and dairy, wild-caught fish and game, or all organic, locally-grown in-season produce. Some people live in an area where they can not easily source this high quality food or can only source it for part of the year. Does that mean you can't do Paleo?! Of course you can! And you can still see tremendous improvements in your health!
It is a surprisingly common misconception that Paleo means only eating grass-fed meat and locally-grown organic produce. Clearly, this is superior if it's accessible for you (both in terms of the nutrient density of your foods and in terms of supporting small scale farms, the environment and your local economy). But, it is not a necessity. Whether sourcing exclusively the best quality foods available or buying your groceries at your local superstore, a Paleo diet is still a nutrient-dense diet that reduces inflammation, helps regulate hormones, encourages a healthy gut and generally promotes good health.
The Paleo diet is really a fairly broad spectrum and there are many aspects of this way of eating that are far from set in stone. An obvious example is how many carbs you consume, and whether those carbs mainly come from fruit or starchy vegetables or even white rice and potatoes. How much fat and protein you consume is also a matter for individual experimentation. Another example of the Paleo spectrum is whether or not you follow an 80/20 rule or if you believe the only way to legitimately call yourself Paleo is if you never stray even for a second (in which case almost none of us can legitimately call ourselves Paleo and I will refer you to this post by Diane Sanfilippo). Another example is how you feel about Paleo-friendly baked goods (this is how I feel). Coffee, alcohol, nightshades, nuts… there are varying opinions on the role that all of these should have in our diets. And this means, that there are lots of variables to experiment with. Different people do well with or without these foods, which is why one of the key tenets of a Paleo diet is to respect the individual and how your body reacts to different foods. And, just as there are so many other aspects of a Paleo diet that can vary from person to person, the quality of the food that you eat can vary depending on your circumstances. And it's still Paleo.
I did already say that being limited to conventionally-produced foods is not ideal. I noticed a big difference in my health when I was able to start buying more grass-fed and pasture-raised meats and started buying the bulk of my produce at my local Farmer's Market. But if you can't, you can't. There are lots of tips and tricks to getting better quality food on a tight budget (see Budget Paleo: Priorities and Strategies and "If I Can't Always Afford Grass-Fed Beef, What Should I Buy?"). And there are a growing list of online retailers of quality foods and online directories of local farms, Farmer's Markets, produce stands, and CSAs to help those who live in areas where sourcing high quality food may be a challenge. This post isn't so much about how to eat Paleo on a budget (or even about strategies for increasing your food budget, which I will write about in a future post) or about how to source better quality foods no matter where you live, but rather about what nutritional differences there are to keep in mind if you are stuck buying conventionally produced foods.
Conventional Paleo Food Challenge #1: Omega-3 to Omega-6 Ratio
When buying conventionally produced meat and poultry, the biggest difference in terms of your health is the ratio of omega-6 to omega-3 polyunsaturated fatty acids in those meats compared to their pasture-raised or wild equivalents. This is where the original recommendations to focus on lean meat presented in The Paleo Diet by Loren Cordain come from–from the assumption that most people will be trying to follow a Paleo diet using conventionally produced foods.
It may be a challenge to achieve that optimal 1:1 to 1:4 omega-3 to omega-6 polyunsaturated fatty acid ratio (see this post), but it is still possible with a little thought, planning and careful choices. You will need to put effort into both decreasing your omega-6 intake and increasing your omega-3 intake.
To decrease omega-6 polyunsaturated fatty acid intake:
To increase omega-3 polyunsaturated fatty acid intake:
Conventional Paleo Food Challenge #2: Nutrient-Density
Whether you're talking about meat or produce, conventionally-produced has fewer vitamins, minerals and antioxidants than the pasture-raised and locally-grown equivalents. There are a variety of reasons for this. When it comes to produce, it's partly a result of ever decreasing soil quality that the fruits and vegetables are grown in, a result of the specific cultivars used (selected for ability to transport and long shelf life rather than flavor or nutritional value), and a result of the amount of time between when that food is harvested and when it is consumed by you.
Nutrivore Weekly Serving Matrix
An easy-to-use and flexible weekly checklist
to help you maximize nutrient-density.
The Weekly Serving Matrix is very helpful! I've been eating along these lines but this really helps me know where to focus vs. which foods serve a more secondary role. It's super helpful and has taken a lot of worry out of my meal planning. Thanks!

Jan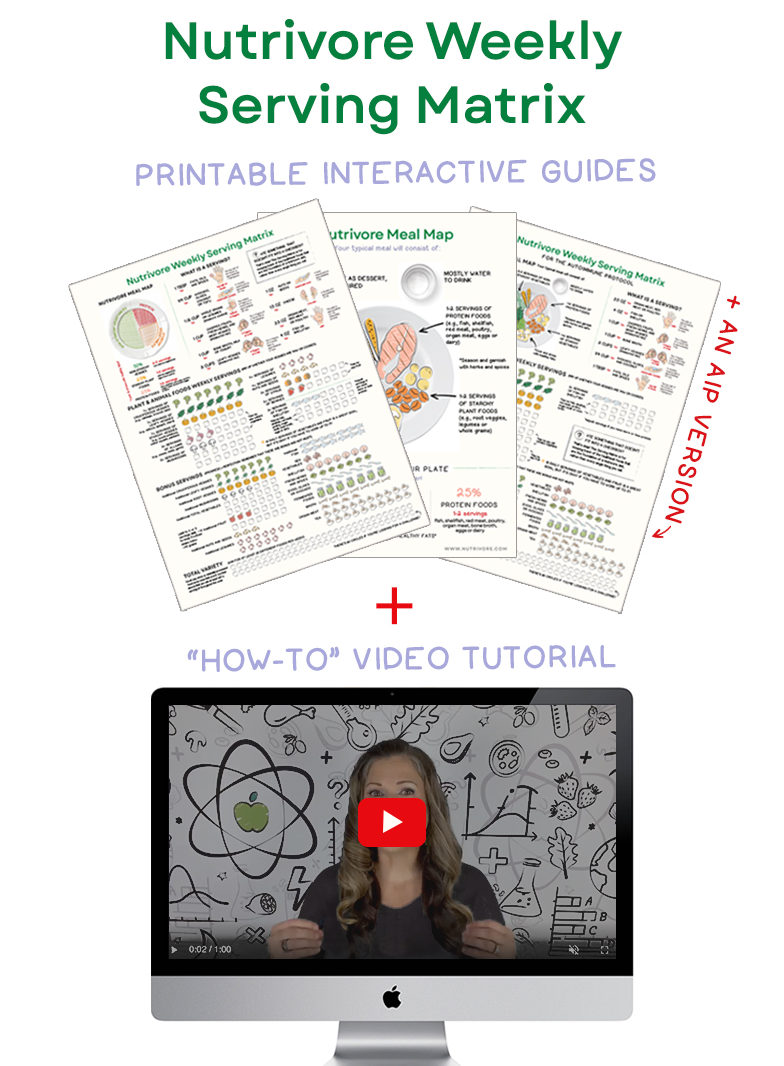 Conventional Paleo Food Challenge #3: Variety
I can find way more different varieties of unusual produce at my local Farmer's Market than I can even get at my local Whole Foods. And because I tend to buy half a pig at a time from my local farmer and like to order the "weird stuff" when I buy meat online, I am pretty accustomed to eating every part of the animal as well as a variety of types of seafood.
Variety is really important in a healthy diet quite simply because different foods contain different nutrients. Variety is the easiest way to ensure that you aren't overdoing a particular nutrient or missing out on something else your body needs to be healthy. The challenge when buying all of your food at a typical grocery store? It's pretty usual for grocery stores to contain the same ol' standard fare, which limits the variety of meats, seafood, vegetables and fruit compared to what you can typically find at a good Farmer's Market.
To increase the variety in your diet:
Best Bang for Your Buck:
If you do have a few extra dollars to spend on just a few high quality food items for your pantry, fridge, or freezer, it's helpful to know which items will give you the most benefit for your dollar. Here are some great places to invest a little more money to see a big return in terms of nutrition:
There's no question that the better quality foods you can eat, the better. But don't let barriers to accessing these high quality foods stop you from making positive changes to your diet. And hey, maybe switching to a Paleo diet will allow you to go off a medication or two (I went off six medications in my first two weeks of Paleo AND at the time I was only consuming conventionally-produced foods!). Maybe you'll have to go to the doctor less frequently and cash in fewer sick days and maybe all of this will free up some money for a few more quality food items. It's better to start with a less optimal version of the Paleo diet than never start at all.