I am so honored to be the US Wellness Meats' Featured Chef for August, 2014!!! I have been a huge fan of US Wellness Meats for almost as long as I have eaten a Paleo diet! They really know animal welfare and meat quality, two things that definitely go hand-in-hand. Inspired by this honor, I developed two exciting new recipes to be featured on US Wellness Meats' website this month along with sharing two of my favorite recipes from The Paleo Approach Cookbook which featured their products. Go see the original posting of this recipe in US Wellness Meats' Featured Chef post here. And make sure to check out my interview with US Wellness Meats here.
This is also TWO Sneak Peek preview recipes from The Paleo Approach Cookbook!!!!
The Autoimmune Protocol E-Book!
One of my FAVORITE books I used to start the transition to AIP!!! It's so helpful! I printed mine out and spiral bound it. Thank you for this! -Rita Davidson
The Autoimmune Protocol e-book is your up-to-date guide to jump-start your healing with the AIP today.
3oo+ pages of quick-access information on the AIP

4 weeks of meal plans with shopping lists

over 80 family-friendly recipes, all 100% AIP!
Get instant digital access for $19.99
I am so so so excited that The Paleo Approach Cookbook will be on shelves in bookstores all over the country TOMORROW!! In case you missed my HUGE giveaway to celebrate both its release and the amazing accomplishment of The Paleo Approach making the New York Times Bestseller List!
Trying to figure out where you can buy my books? There's links at the bottom of this post.
I know that many of you already know what this book is about and are looking forward to its release as much as I am. For those of you who aren't familiar, here is the official blurb:
The Paleo Approach Cookbook is the highly anticipated companion to the groundbreaking guidebook and New York Times Bestseller The Paleo Approach. Read it to discover which foods you should eat to calm your immune system, reduce inflammation, and help your body heal itself.

There's no need to worry that "going Paleo" will break the bank or require too much time in the kitchen preparing special foods. In The Paleo Approach Cookbook, Dr. Ballantyne provides expert tips on how to make the switch easily and economically. She explains how to stay within your food budget, how to make the best use of your time in the kitchen, and where to shop for what you need. Complete food lists, shopping guides, and six 1-week meal plans take the guesswork out of eating to maximize healing.

Don't know how to cook? Dr. Ballantyne walks you through kitchen basics, from essential cooking tools and techniques to helpful cooking guides. The book offers more than 200 delicious recipes, from breakfast staples to decadent desserts, along with hundreds of variations to spark your creativity.

Whether you are just embarking on your journey to better health or are a Paleo diet veteran looking for inspiration in the kitchen, The Paleo Approach Cookbook is the ultimate guide to help you reverse your disease and love every bite!
---
Steak and Kidney Pot Pie
Part pot pie, part shepherd's pie, part stew, and all flavor—you will probably be surprised by just how delicious offal can be when you try this recipe.
The Gut Health Guidebook!
The depth of information, practical tips, and the accessible way Dr. Sarah shows me how to apply complex science to improve my health is truly remarkable. -Wendy
The Gut Health Guidebook is the culmination of 6 years of research. This unprecedented deep dive into the gut microbiome delivers:
A new diet for gut health, built from the ground up

Essential gut microbiome superfoods

20 Keys to gut health
Get instant digital access for $27.99
Prep time: 20 minutes
Cook time: 1 hour 45 minutes
Servings: 4-6
Ingredients (Steak and Kidney Pot Pie):
Heat 2 to 3 tablespoons of the tallow in a large saucepot or Dutch oven over medium-high heat. Brown the steak and kidney separately in batches. Set aside.
Add the remaining 1 to 2 tablespoons of tallow to the pot if needed. Brown the onion slices for 7 to 8 minutes. Add the carrots and mushrooms and cook for 3 to 4 more minutes.
Return the meat to the pot. Whisk the arrowroot powder into the cold beef stock and add to the pot while stirring quickly to incorporate. Add the fish sauce and bay leaf. Simmer uncovered for 1½ hours.
Meanwhile, make the kufu.
Preheat the oven to 425°F.
Taste the steak and kidney filling and season with truffle salt as needed. Pour the filling into a 9-by-9-inch casserole dish or lasagna pan. (Alternatively, you can make this in indi­vidual 10- to 14-ounce ramekins.)
Gently spread a layer of kufu over the top.
Place the casserole dish on a rimmed baking sheet. Bake for 15 minutes, until it is bubbling around the edges and the topping has browned.
Variations:
You can make this pot pie with chicken or turkey giblets instead of kidney. If you don't want to bother with the topping, you can also serve it as a stew.
Add some veggies in the last 10 minutes of stovetop cooking. Broccoli, kale, collards, and spinach are all wonderful additions.
FODMAP Alert:
This recipe cannot be made low-FODMAP.
Kufu
Kufu is a tasty, traditional South American dish made with ripe plantains. It's a starchy and slightly sweet side that can be enjoyed with just about anything!
Prep time: 10 minutes
Cook time: 15 minutes
Servings: 6 to 8
*NEW* The Gut Health Cookbook!
The Gut Health Cookbook is fantastic! Thank you for researching and creating The Gut Health Cookbook! Such wonderful recipes! I'm so excited to try them all! -Sue
The Gut Health Cookbook puts the 20 Keys to Gut Health into practice with:
180+ recipes featuring 61 gut health superfoods

Gut health food lists

Why's behind each gut health superfood
Get instant digital access for $27.99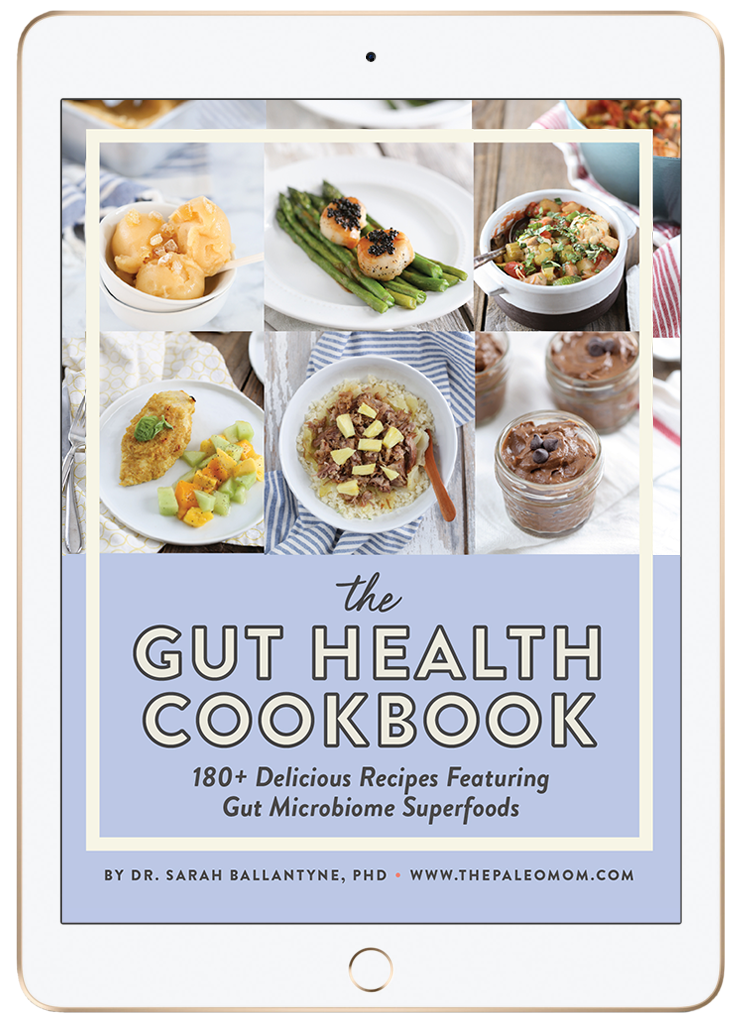 Ingredients (Kufu):
6 ounces bacon, chopped
1 medium onion, diced
4 cloves garlic, minced
3 ripe plantains (they should be mostly black), peeled and cut into 1-inch semicircles
2 cups chicken broth
Add the bacon to a cold skillet, then turn on the heat to medium-high. Cook the bacon for 5 minutes, then add the onion and garlic, stirring occasionally. Continue cooking until the bacon is crisp and the onion is soft and caramel­ized, 8 to 10 minutes.
Meanwhile, place the plantains and broth in a saucepot and bring to a boil over high heat. Reduce the heat to maintain a simmer and cook until the plantains are tender when pierced with a knife, about 10 minutes.
Drain the plantains (reserving the cooking liquid) and mash with a fork or potato masher. Add the bacon mixture and all the grease from the pan and stir to incorporate. If you like a thinner mash, you can add some of the reserved cooking liquid.
Variations:
Mofongo. When this dish is made with green plantains, it is called mofongo. Green plantains absorb a little more liquid, so increase the broth to 3 to 4 cups and cook for 20 minutes instead of 10.
FODMAP Alert:
This recipe cannot be made low-FODMAP.
---
Want more? The Paleo Approach Cookbook releases August 26th and is currently available for pre-order from several popular retailers: Amazon (USA), Amazon (CA), Barnes&Noble, Independent Bookstores, and Book Depository for international locations. Stores decide whether or not to carry the book and how many copies to stock based on pre-order numbers. This even includes those orders today!!!! Because of this, pre-ordering is the best thing that you can do to support me. THANK YOU FOR YOUR SUPPORT! The book is also be available on all major e-book platforms.