Paleo Principles is HERE!!!!
Paleo Principles is the most comprehensive Paleo guidebook ever: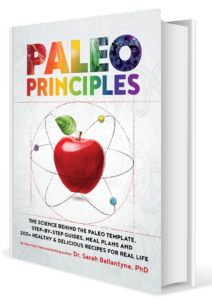 The complete scientific foundation behind the Paleo diet and lifestyle
Tons of visual guides, practical strategies and tips!
220+ healthy & delicious recipes for real life
20 meal plans for a variety of health goals
Latest Posts
Thanksgiving in the United States will be here before we know it,…
What Is Paleo?
The Paleo diet is a nutrient-dense whole foods diet based on eating a variety of quality meat, seafood, eggs, vegetables, fruits, nuts, and seeds. It improves health by providing balanced and complete nutrition while avoiding most processed and refined foods and empty calories.
Latest Recipes
My husband is a sucker for lemon desserts, so when his birthday…
Join me for the Healing Hashimoto's Summit!
Your thyroid is important to EVERY aspect of health!
The Summit is online and free from November 6-13, 2017!
Become a Member for FREE!
The Paleo Mom Members' Area is resource central! You'll get FREE, unlimited access to dozens of quality resources, including downloadable e-books, exclusive recipes, printables, videos and guides plus accesss to over 30 exclusive discount codes just for members!
Books
Set yourself up for success with my best-selling books.
Podcasts
The Paleo View is a top-rated syndicated podcast in its fifth year on iTunes!
Paleo Conversations is a new YouTube series.
Free ABCs of Paleo E-mail Series
Get all the basics delivered straight to your inbox in this free 15-part e-mail series!