I owe a debt of gratitude to Paleo Parents for the 50/50 Burger.  Their original recipe, featured on their blog and in their first book Eat Like a Dinosaur (read my review here), adds some warm spices to enhance the flavors of bacon and ground beef, formed into a patty and cooked using whatever method you like to cook burgers.  Absolutely genius.  Take 2 of the 50/50 Burger, featured in their second book Beyond Bacon (read my review here), turns the tables and uses beef bacon and ground pork.  Again, genius.
Both of Paleo Parents' 50/50 burger recipes include nightshade spices.  The first time I decided to try a version of their recipe I decided to quite simply leave out the spices and cook up some ground beef and ground bacon "au naturel" (okay, the first time I made these it was actually with wild ground venison and ground bacon).  And, maybe this reflects the fact that bacon is one of my absolute favorite foods, and maybe this reflects the fact that I do tend to enjoy simpler flavors, but I just couldn't believe how crazy delicious it was!  Variations of 50/50 burgers have become one of my family's staples over the last six months.  But the most exciting day was the day I decided to add ground liver to the mix to sneak a little liver into both my diet and my kids' and husband's!
Yes, I know. 50/50/50 doesn't make sense.  You can't have three halves in a whole.  But, there's something about 33.3333/33.3333/33.3333 burgers that doesn't quite roll off the tongue.  Plus, I like that calling these 50/50/50 burgers pays homage to the recipe that inspired them.
If you've read any of my recent offal recipes, you know that my vast preference when it comes to liver is for bison liver.  Prior to this discovery, my preference was lamb liver due to its mild flavor that is easier to mask than any other liver I've tried.  Why does bison liver trump lamb liver?  Because it's actually yummy.  It enhances the flavor of your dish.  Yes, you read that right.  Along with a mild "livery" taste, bison liver contributes some serious umami to a dish.  I don't mind it straight (and I don't like other types of liver straight), but I love, love, love it when mixed with other meats.  In fact, I'd rather eat these burgers with the ground liver in there!  Both US Wellness Meats and Grass-fed Traditions sell bison liver online.
So, if you're looking for a great burger, or if you're looking for a way to sneak more organ meat into your diet (yes, many of us do need to sneak it even into our own food!), then this is the recipe for you.
BONUS:  This recipe is 100% autoimmune protocol friendly (just make sure your bacon is cured with salt, sugar and smoke and nothing funny like barley malt).
DOUBLE BONUS:  This recipe is completely customizable.  Do you usually add sautéed diced onion to your burger patty mixes?  Then go ahead.  Favorite steak spice?  Go ahead and add it.  Serving suggestion?  You could go full-out Paleo hamburger bun, portabella mushroom caps for buns, bell pepper halves, lettuce wrap, drench with guacamole and sliced raw red onion like in my photo below, or serve with sautéed mushrooms and onions and grilled avocado!
Suggested variation:  I've also replaced the ground beef in this recipe with ground beef heart and it was so awesome!  And then you're getting even more nutrient-dense organ meat!  Win-win!
Ingredients:
1 lb ground beef (or any other ground meat you enjoy)
1 lb bison liver (or any other liver you enjoy)
1 lb bacon
Yes, that's really it.
There's a bunch of different ways you can grind your liver and bacon.  Some butchers can do it for you.  You could use a meat grinder attachment for a standing mixer.  You can buy inexpensive tabletop hand crank meat grinders or deluxe electric countertop meat grinders too.  And most food processors will do a pretty acceptable job grinding meat too.  I've even used a Magic Bullet to grind meat before (although I think a real food processor does a better job).  Bacon grinds more easily when it's cold, and I like to grind both the bacon and the liver together when I'm using a food processor (which seems to keep both from grinding too fine).  No matter which kitchen tool you use,  the goal is something the same texture as ground beef.  Liver has a lot of moisture in it and it does tend to liquefy a little in food processors.  The bacon will make the mixture a little thicker.
Mix your ground bacon and liver with your ground beef.  I just do this with my hands.  Form patties of whatever size you want (my usual is 8oz).  The liver does make these kinda sticky, but don't worry, they'll be fantastic.  If they're too sticky, try getting your hands wet with cold water (and clean) before forming the patties.
Cook your burger patties in your favorite way.

To grill or barbecue, preheat gas or charcoal barbecue or preheat indoor grill to medium-high heat. Place patties on heated grill.  Grill for 6-8 minutes per side, until cooked to your liking.
To pan fry, heat a couple tablespoons of a good cooking fat (tallow, lard, coconut oil) over medium high heat.  Place patties in hot pan.  Cook 8-12 minutes per side, until cooked to your liking.
To bake, preheat oven to 400F.  Place patties on a deep-rimmed baking sheet or roasting pan.  Bake for 18-22 minutes, until cooked to your liking.
Don't know what to your liking is?  Making a different size patty and not sure how long it will take to cook?  The best way to make sure your burgers are perfect is to use a meat thermometer.  140-145F is medium, 150-155F is medium-well, over 160F is well done.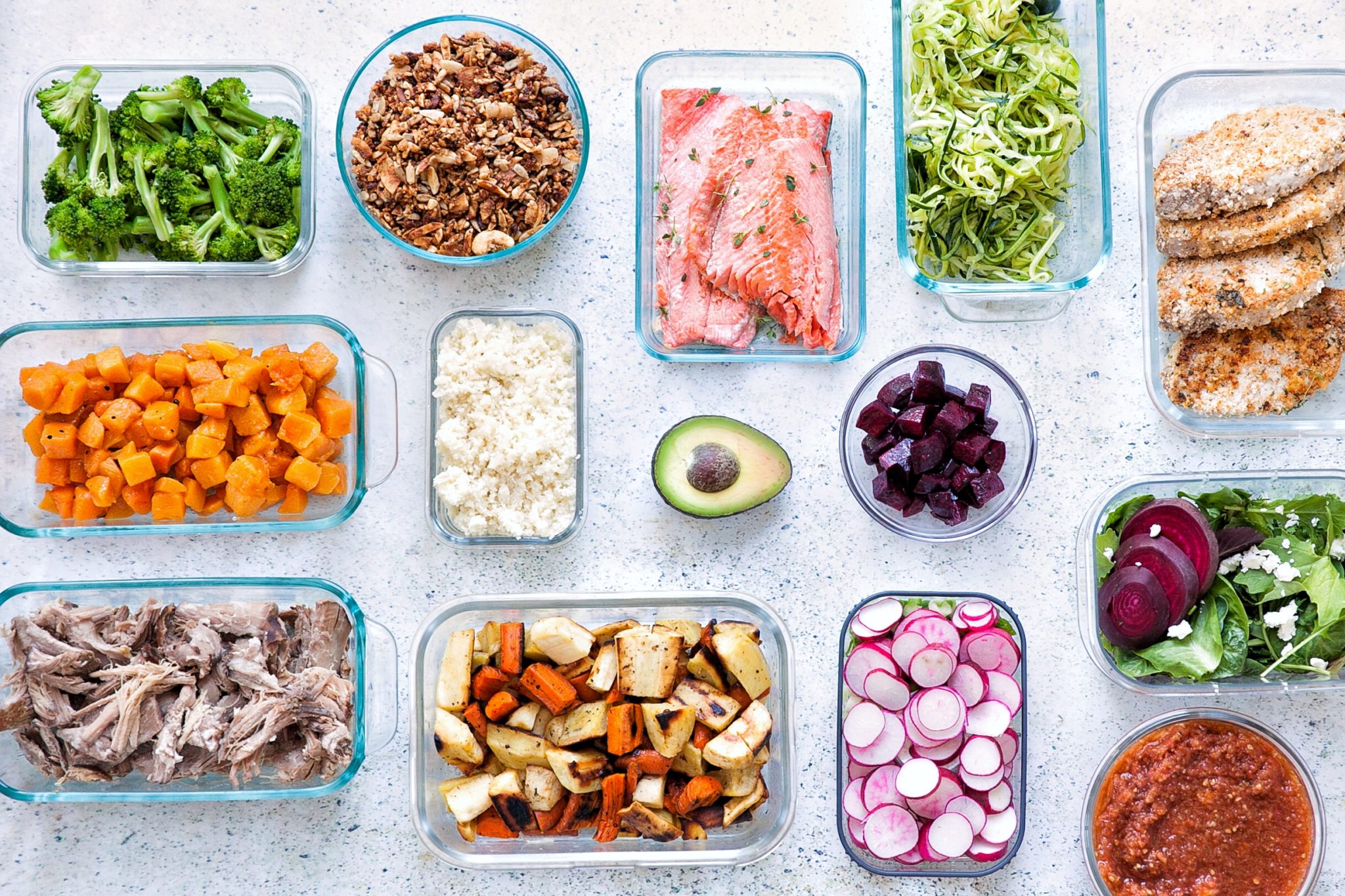 The #1 Tool for Paleo and AIP success!
Create completely customizable and versatile meal plans with thousands of top-notch recipes; make shopping a breeze with the app, and even get reminders for meal prep timing! Get all my recipes from ThePaleoMom.com for just $1 more when you sign up for meal planning with Real Plans!
Want to track what you are eating? Check out the NEW Real Plans Macro Tracker!
You may enjoy these related posts:
My first iteration of these burgers was to spruce up ground bison. The bison I …