As the Paleo diet gains prominence, some popular myths about this lifestyle have too. I've done my best to debunk these myths whenever possible (see Paleo Diet Clinical Trials and Studies, Gluten-Free in the News (some Yay! some Nay!) and Rebuttal to "Paleo Diet Could Lead To Rapid Weight Gain, New Study Shows"). Did you see that a recent U.S. News and World Report article ranked Paleo among the worst diets out there? They listed the "difficulty" of sticking with this lifestyle as a major factor in that ranking.
Harumph! To me (and likely the vast majority of the millions of people who come to my site), the Paleo diet is no more difficult than any other approach—and the payoff is SO much greater. Yes, you have to get used to ordering your hamburger without the bun, but is that any harder than ordering it without the meat? or without the salt? And given that Paleo is a nutrient-first approach to food choices, you really can't argue against the framework from a nutrient-density or health perspective (see The Diet We're Meant to Eat, Part 3: How Much Meat versus Veggies?, The Importance of Nutrient Density and Gluten-Free Diets Can Be Healthy for Kids). A major factor in a diet's efficacy lies in its long-term sustainability—meaning, in addition to whether or not the dietary framework promotes nutrient sufficiency and supports health, it needs to be practical to follow it over the long term—and our budgets play a major role in whether something is sustainable. It's true that whole foods tend to cost more than the processed and manufactured foodlike substances that make upwards of 70% of the average American diet. But, the good news is, Paleo does not have to be expensive. I've written before about budget priorities (see Budget Paleo: Priorities and Strategies and Paleo FAQ: "Can I still do Paleo if I can't afford or source grass-fed beef and organic produce?"). In this article, I want to give you five actionable strategies you can use to stay within your budget while following a Paleo template.
Buy in bulk
I like to follow the rule of #ThreeQuartersVeggies: it's a little hashtag I use to describe my meals, because my plate is generally made up of a diversity of nutrient-dense veggies (see Carbs Vs. Protein Vs. Fat: Insight from Hunter-Gatherers, The Diet We're Meant to Eat, Part 3: How Much Meat versus Veggies?, The Amazing World of Plant Phytochemicals: Why a diet rich in veggies is so important! and The Fiber Manifesto; Part 1 of 5: What Is Fiber and Why Is it Good?). That means having a shopping strategy for these ingredients is a must!
I like to shop seasonally because plants are the most nutrient dense when they're fresh and locally-sourced. Plus, when they aren't flown from out of the country, they're cheaper! Our local farmers' markets are perhaps the best resource for finding these staples, and particularly when you shop in season, the veggies there should be relatively cheaper than what you'd find at the grocery store. One tip is to shop at your local farmer's market at closing time; often, you can get a super great deal on whatever is leftover!
Save 80% Off the Foundations of Health
Expand your health knowledge on a wide range of topics relevant to you, from how to evaluate scientific studies, to therapeutic diet and lifestyle, to leaky gut and gut microbiome health, to sustainable weight loss, and much more!!!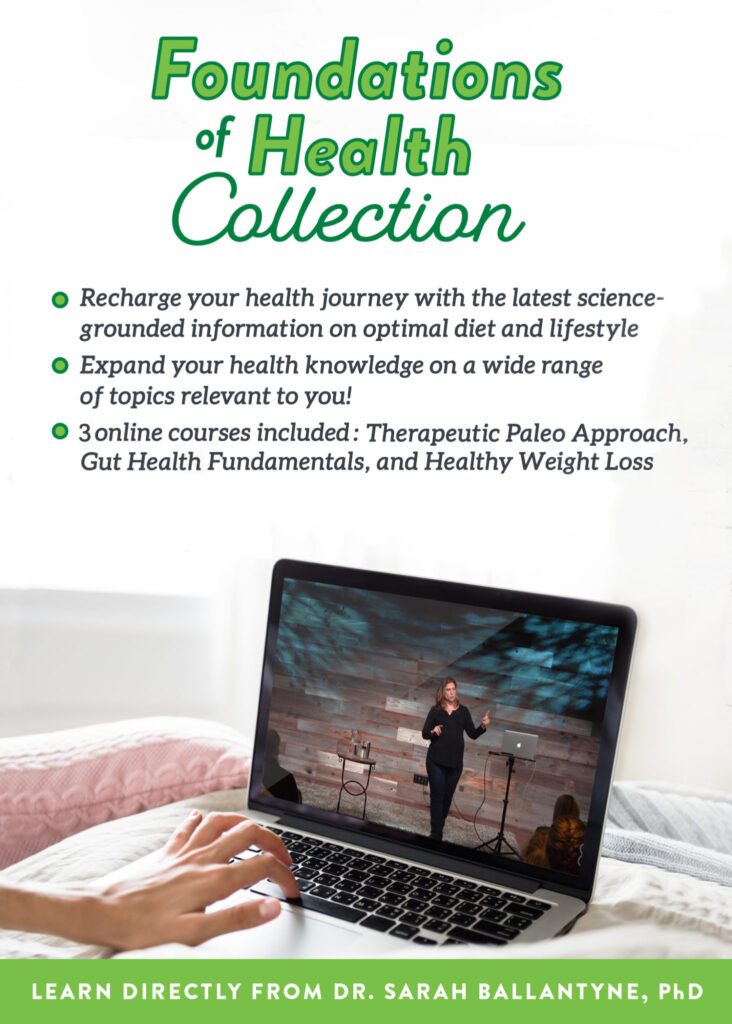 If you discover a great deal on something very seasonal you know your family loves, like strawberries, green beans or squash, it may be better to freeze these during peak season and pull them out in the winter. Investing in a chest freezer is a great way to stretch your grocery purchases across seasons.
How do you freeze produce? For veggies, it's usually best to blanch them first. That means giving them a quick 30-second dip in simmering water, letting them cool, then freezing them. I like to freeze fruits and veggies prechopped on a lined baking sheet in a single layer. Once frozen, I transfer to freezer-safe containers or freezer bags for longer term storage (most things will last about 6 months in the freezer). For fresh herbs, I chop and mix with olive oil or some other quality fat and freeze in ice cube trays. Once frozen, again, I transfer to a container for longer term storage. This is especially useful for herbs that tend to lose their flavor once dried like cilantro, parsley, and basil. Make sure to label and date!
If you don't have a local market or are shopping during the winter, buying organic frozen veggies is also a great strategy (and yes, frozen veggies are perfectly nutritious!).
We can also save a boatload by buying meat in bulk. Remember that chest freezer I mentioned? It's especially useful for this piece of the puzzle! If you're able to invest in a whole, half or even quarter cow or pig, doing so will save you an incredible amount of money. You might buy a half cow for $3.50-$5/pound. Compare that to $7-$10/pound for grassfed ground beef at the grocery store, and you can see your investment really pay off! Chicken and fish can often be purchased this way from producers, as well. Again, I recommend heading to our local farmers' markets to meet up with small farmers and fishermen, who typically organize these bulk buying opportunities (if an offer isn't obvious, ask!).
If you don't have a local market, I like buying from Butcher Box, US Wellness Meats and Pasturebird. These online retailers deliver anywhere in the US!
Finally, a CSA (community supported agriculture) share is a fun way to eat seasonally while supporting small organic farms. Many CSA's offer chicken and eggs as well as veggies. In the off-season, Farmbox Direct is a good alternative to a CSA.
Cook at home
So, now that I've advised you on where to purchase your Paleo groceries, you can see where I'm headed next, right? Cooking our food at home is perhaps the best money-saving tip we can follow on Paleo. In many ways, the more time we invest in making this diet sustainable, the more money we'll save!
Learning to cook, and perhaps investing in a few good cooking tools (like a good knife and sheetpans for roasting veggies, a crock pot or InstantPot for broth, soups and stews, and a cast-iron skillet for searing meat) can make staying within our budgets an attainable goal.
The key often lies in finding recipes we enjoy and which fit into our schedules. This might involve taking a good look at what's worked for us in the past. Do our families tend to go straight from after school pickup to practice to meetings and home? Then a meal made in the crockpot, like my Hearty Beef Stew, Balsamic Instant Pot Roast Beef or AIP Barbacoa might be our best option. Do our families appreciate intricate flavor or miss the comfort of takeout? A recipe like my Cashew Chicken or Paleo Chicken Pad Thai or Paleo Tacos might help curve cravings and keep us on track. I use a mix of cooking big meals on evenings when I have more time so that I have leftovers for evenings when I'm crunched for time (like roasting two chickens), having a repertoire of meals that can be made super quickly (like Simple Broiled Pork Chops and Truffle Salt and Thyme Broiled Salmon with Dill Caper Sauce), and InstantPot meals.
Above all, finding a few go-to recipes that we like (or at least don't dread!) cooking is critical. When cooking at home is fun, easy and yields a delicious result, spending far more money on takeout or the deli bar doesn't seem so tempting!
Work in batches
When it comes to making the most of our time (and money!) in the kitchen, batch cooking is key. Batch cooking simply means cooking more than a meal at a time, ensuring that you yield more food while putting in about the same amount of time in the kitchen.
There are many approaches to batch cooking. My friend Mickey presents a great one in her program AIP Batch Cook. Mickey cooks a LOT of food in a few hours on the weekend, and has prepared food either in the fridge or frozen all week. It's the same approach my co-author Alaena and I followed when we wrote the Meal Plans in The Healing Kitchen (you'll get access to meal plan tutorial cooking videos when you purchase the book!), and it's a great strategy for people with a busy weekday schedule or limited energy in the evenings. Planning to batch cook is also great for your budget, as it encourages you to eat the food you've already prepared and avoid veering off-course.
However, batch cooking doesn't have to be quite this intense. In my house, I follow a more relaxed approach. This generally means that instead of roasting one chicken for dinner Monday night, I'll roast at least two, ensuring my husband and I have chicken for lunch all week. I immediately pull the chicken from the carcass to make bone broth, too (see Roast Chicken and Chicken Bone Broth). If I make a batch of 50/50/50 burgers, I make at least two dozen (simply baking the patties in a 400F oven for 20 minutes) and freeze the leftovers. My daughter loves to eat them for breakfast, and I only have to grind liver once a week, LOL! I even follow this approach with scrambled eggs (see Oven-Scrambled Eggs) and egg muffins (see Ham and Sweet Potato Egg Muffins), which I can make on a relaxed weekend morning and which hold up well in the fridge for a couple days and make my busy mornings MUCH easier.
Another way that I batch cook is cook one extra thing for breakfasts, lunches or the freezer while I'm cooking dinner. For example, I often make a double batch of Paleo Waffles at the same time as I'm cooking up side dishes to go with a roast in the oven and then freeze them. Or, I might make muffins or date squares for school snacks, or even soup for breakfasts or lunches for myself during the week.
No matter if we use these strategies or make up ones that work better for us, batch cooking is a sure way to stretch one valuable asset: our time!
Meal Plan
Meal planning is a strategy I've recently embraced thanks to Real Plans, and I can't tell you how much time, energy, money and mental space it's saved both myself and my family. In fact, this might be the best budget-saving strategy I can offer you: make a meal plan that fits within your budget, and stick to it!
Like batch cooking, meal planning can take on any form that works for you. Putting in a little work before grocery shopping is key. When we know what we're eating every day, when we plan to prep, cook and eat it, and how much of it to buy, we're far more likely to avoid expensive surprises like an emergency trip to the Whole Foods hot bar.
With a little practice, you may even be able to estimate how much you'll pay for each ingredient, making our shopping lists and budgets even more precise.
We might approach meal planning by sitting down with a few favorite recipe sites or cookbooks and sketching out our meals for the week. If that sounds daunting (or time-consuming), I encourage you to take a look at the simple meal planning tools over at Real Plans. Real Plans allows you to quickly create custom meal plans and shopping lists that take your family's dietary preferences and BUDGET! into account. They include timelines and prep directions, too; and recipes from myself, Mickey and Angie at AutoimmuneWellness.com, Michelle at Nom Nom Paleo, Juli at PaleOMG and Wellness Mama can be added to your plans.
Using Real Plans throughout 2016 helped me save an enormous amount of time and money, and I can't recommend meal planning this way highly enough.
Stock Your Pantry
So far we've discussed sourcing and cooking with meat and veggies. But what about your pantry staples? Convenience snacks and treats are one of the ways my family makes Paleo sustainable, and though we prefer not to rely on them for a large portion of our daily nutrition, we find they keep things fun, interesting and easy! Even if you're not a snacker, certain items like cooking fats, nut flours or other dry goods will likely be an important and necessary part of pleasant Paleo cooking.
But a quick look around you nearest natural foods store or organic aisle might give you sticker shock. Quality ingredients made from real foods tend to be expensive! Finding cheaper outlets for these dry and canned goods is a best bet if we're trying to save money. Plus, buying them in bulk can also help insure we don't run out and pay more than we should out of desperation!
I've nailed down a couple strategies for stocking my pantry (see 15 Must-Have's for Your Paleo Pantry) in a cost-effective way. First, for items I eat frequently like Crown Prince Oysters, additive-free coconut milk, and coffee, I use Amazon's Subscribe and Save program. This program increases in value as you subscribe more, and it ensures that I never run out of kitchen staples.
For other products I use once in a while like cane sugar and nut flours, snacks for my daughters, specialty products like Simple Mills crackers, home and bath products and pretty much anything else in my pantry, I love the incredible value of a subscription to Thrive Market. If you're a fan of Costco's model, you'll love Thrive.
You won't be buying in bulk (unless you want to order 5 chocolate bars at a time, LOL!), but the principle is the same as Costco. Your $59.95 yearly subscription gives you access to thousands of items, most of which are discounted by around 25% (some as much as 50%). With whole categories for Paleo and Gluten-Free diets, it's a great value for our community. Like my Costco membership, I save around the value of my yearly membership fee nearly every time I shop!
I hope these strategies will help you save time and money—and perhaps convince you that Paleo is a totally sustainable (and budget-friendly!) way to live!!