The Paleo diet doesn't have to be a daunting proposition! As this lifestyle gains traction, restaurants are more accommodating than ever and groceries, meal delivery services and meal planning apps make transitioning your family to a Paleo diet a simple choice that can change your life.
But what happens when you just want to enjoy your old favorites? When cravings come knocking, there's no reason you can't have your chocolate chip cookie and eat it too. In this post, I'll share five of my favorite "Paleo-fied" swaps for popular Standard American Diet fare. These are the recipes that continue to be staples in my home. They're easy, nutrient-dense options quick enough to whip up on weeknights so you can stay on track.
Let's start with breakfast. These pancakes are one of my most popular recipes for good reason. There are plenty of Paleo pancake recipes floating around the internet, but I find most of them to be too eggy, dense and hard to flip. When I'm craving pancakes, the texture and mouthfeel are just as important as the flavor, and that's where these pancakes shine!
By relying on plantains blended up with egg and coconut oil and baking soda, they achieve a really light and familiar texture plus that perfect pancake flavor. I once received an email from a middle school cooking class that used this recipe and they pronounced it better than "normal" pancakes! Plus, the pancakes are basically eggs and fruit, so they're a total win on the nutrition front too! You can make them as waffles too.
As a parent, I know that making our kids some "normal" food from time to time can go a long way toward getting them on board. That's why I created this Paleo Chicken Finger recipe! It uses a simply spiced almond meal breading to create familiar flavor, then bakes the chicken fingers for a crispy texture.
My kids and I love dipping these fingers in homemade honey mustard (simply yellow mustard and good-quality honey), barbecue sauce or ranch dip. Finger foods are a favorite of ours (we joke that my 10-year old will likely have a finger food buffet at her wedding!), and I think they're a big part of feeling like a "normal" kid. If you really want to go all out on that front, pair these chicken fingers with the next recipe on my list!
These "french fries" are fabulous because they're so versatile. I like sweet potatoes, as the purple and white variety are really starchy and hold a great fry shape. But you can really use any starchy vegetable you like, from plantain to parsnip. Making a mix of several veggies is a great way to diversify your nutrient intake, plus it's just plain fun!
I love serving these french fries alongside my Paleo Chicken Fingers above, but they're a fabulous complement to my 50/50/50 Burgers and Battered Fish, too!
Nutrivore Weekly Serving Matrix
An easy-to-use and flexible weekly checklist
to help you maximize nutrient-density.
The Weekly Serving Matrix is very helpful! I've been eating along these lines but this really helps me know where to focus vs. which foods serve a more secondary role. It's super helpful and has taken a lot of worry out of my meal planning. Thanks!

Jan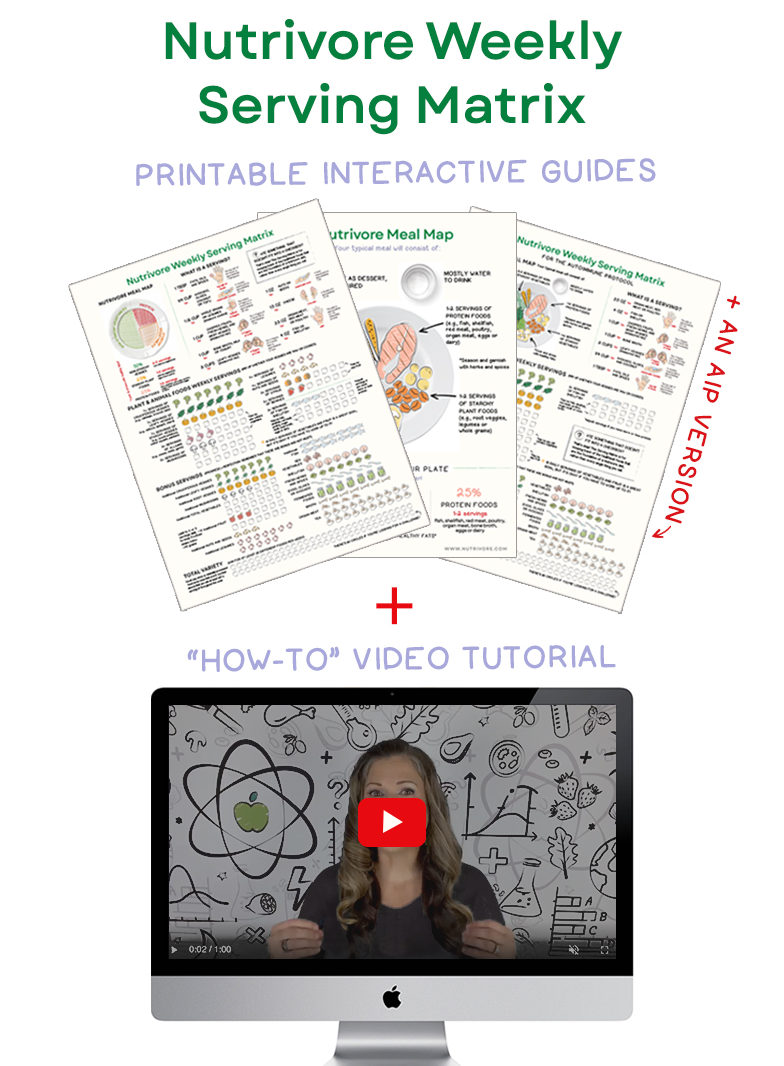 One of my all-time-favorite American dishes, pot pie, is surprisingly easy to recreate on a Paleo diet! I really like using leftover chicken in this recipe, but I'm not above cooking it all from scratch to satisfy a craving. The key to a successful pot pie is an amazing crust and a truly creamy and flavorful gravy. While you might not think those are possible on Paleo, I managed to make them work with an almond flour and arrowroot blend and a simple cauliflower gravy. This recipe is not to be missed!
Oh, and as a special hint for my AIP peeps, recently I've been swapping out the almond flour-based crust in this recipe with the AIP cassava flour based crust from my Apple Pie (Two Variations, AIP and Standard Paleo). It's equally as tasty and makes this whole dish AIP!
This recipe is one of my all-time favorites because it's such a popular dessert! In fact, chocolate chip cookies might be the dessert I've eaten the most since coming to the U.S. They're practically ubiquitous at birthday parties, school events and backyard cookouts. I love having a healthier Paleo version of this treat to take along to these outings, and knowing that the mix of cashew butter, ghee, coconut oil and evaporated cane juice is fairly nutrient dense doesn't hurt, either.
This is also the cookie recipe that I make for non-Paleo events. Not only does it mean there's a treat available for my family can enjoy, but these cookies are so tasty that they clearly demonstrate for everyone that Paleo is not synonymous with deprivation.
I could go on forever about easy Paleo swaps for Standard American Diet favorites, but I hope this list is simple enough to get your gears turning. Paleo should make you feel amazing, and sometimes all that takes is a simple swap and a chance to eat some of your favorites once again!