'Tis the season for countdowns and for resolutions, so I decided to combine those two ideas in a very special round-up:
This time of year, my inbox is flooded with questions from people struggling with their health, and looking to follow the autoimmune protocol as detailed in The Paleo Approach for their New Year's resolution. The question I hear most frequently? What do I absolutely need to be successful? It's kinda like when expecting new parents ask you what gear they really need versus what's just going to take up space and collect dust. And, as someone who has dedicated my last three years to creating resources for the autoimmune community, I do have some opinions on the matter. In fact, I've been working hard to create a bunch of new resources, tools, and connections for you so that this year, you have more powerful support to help you reach your health goals than ever before.
Collaboration was my theme for 2015, and boy what a year it was! I am so glad that all my efforts can now come together and give you not only the science but the practical tools to make 2016 the year you find success on the autoimmune protocol, regain control of your health and improve your life! Already embraced your path to healing? These four resources will still be an awesome addition to your lifestyle. Plus, they make great recommendations (and gifts!) for others in your life who are looking to improve their health too!!
So, in no particular order, I give you my TOP 4 resources for success on the Autoimmune Protocol in 2016!
Real Plans is a online meal planning service that's completely Paleo- and AIP-friendly and ridiculously awesome.
I recently announced my partnership with Real Plans to bring you the most versatile, customizable, easy-to-use, functional and effective meal planning tool available! When you sign up, you instantly access over 1400 carefully curated recipes to suit every taste and occasion, including a great collection of AIP recipes!. Three recipe Add-On packages (like ThePaleoMom Recipes which includes 260 Paleo and AIP recipes for only $1 per month) help hone in on your dietary priorities even more! Between Real Plan's collection and ThePaleoMom Add-On package, there's nearly 300 AIP recipes to choose from! Plus, you can import your own recipes too! Real Plans learns your dietary needs and food preferences to generate a fully-customizable meal plan each week, along with interactive shopping lists and timelines.
Real Plans offers the customizability of a huge collection of recipes that cater to a variety of different diets. You set your dietary preferences using any of the diet templates (traditional, gluten-free, dairy-free, GFDF, vegetarian, Paleo, or Primal) and then modify for foods you additionally include or exclude… or you can completely customize your own guidelines! And now, my partnership with Real Plans means they can serve the AIP community too!! There is now an AIP option for your meal plans and hundreds of recipes to enjoy!
The Autoimmune Protocol E-Book!
One of my FAVORITE books I used to start the transition to AIP!!! It's so helpful! I printed mine out and spiral bound it. Thank you for this! -Rita Davidson
The Autoimmune Protocol e-book is your up-to-date guide to jump-start your healing with the AIP today.
3oo+ pages of quick-access information on the AIP

4 weeks of meal plans with shopping lists

over 80 family-friendly recipes, all 100% AIP!
Get instant digital access for $19.99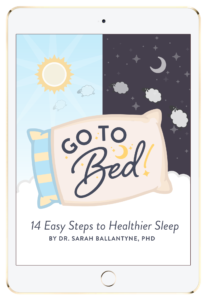 2.Go To Bed is an incredible program, the result of almost a year and a half of work, and I'm super excited to finally be ready to share this resource with all of you!
Go To Bed: 14 Easy Steps to Healthier Sleep is a new online program and is quite simply the most comprehensive sleep guide ever created. Although this is a project I have been working on behind the scenes for over a year and a half, my new team came together and the group effort took Go To Bed to the next level!
Go To Bed contains the most comprehensive summary of the relationship between sleep and all aspects of your health and wellbeing ever created. It's also the best and most comprehensive resource for how to improve your sleep that is available anywhere. This epic 222-page e-book not only contains every scientifically-validated tip and trick for improving your sleep but also a variety of ways for tracking and evaluating your sleep so you can measure your progress! And, of course, there's the 14-Day Sleep Challenge, designed to help you recharge your life with better sleep in just 14 easy steps. Read more about the program here.

3.
Paleo on the Go has launched a NEW 30-Day AIP Meal Plan Challenge with pre-packaged AIP meals that are prepared in a dedicated gluten-free kitchen, arrive frozen, and are good in the freezer for up to six months.
For the New Year I have once again partnered with Paleo on the Go to launch a new 30-Day Meal Plan Challenge! If trying out the autoimmune protocol is one of your New Year's resolutions, then this is an amazing option! How it works: choose whether you want Paleo on the Go to provide you with one meal a day or two meals a day and purchase that package. Then download the corresponding meal plan (either with you cooking 2 meals a day because Paleo on the Go is providing 1, or with you cooking 1 meal a day because Paleo on the Go is providing 2). The meal plan includes links to recipes, notes on which meals are leftover meals, and suggestions for adding steamed veggies or salads to your Paleo on the Go meals where appropriate. Each plan is for one person, so if you're looking to feed two people, you'll need to double everything (both the recipes you cook and you'll need to buy two packages from Paleo on the Go).
Want to make a 30-Day AIP Meal Plan Challenge even easier? Every recipe used in the Paleo on the Go meal plan is also available as part of ThePaleoMom Recipe Add-On package with Real Plans! Simply input your meal plan into Real Plans (keeping meals that Paleo on the Go is providing blank) and you'll get your interactive shopping list for the week too! This is also a great way to swap out any recipes for ones you'd prefer or easily rejig the Meal Plan Challenge to feed a family. Read more about the AIP meal planning option with Real Plans HERE.
4.
The Healing Kitchen is packed full with more than 175 budget-friendly, quick and easy recipes made with everyday ingredients, you get to minimize time and effort preparing healthful foods without sacrificing flavor!
This amazing new AIP cookbook is a collaboration with my fellow blogger and dear friend Alaena Haber of Grazed and Enthused. Our dream with this book is to create a resource that is completely accessible to everyone, regardless of your budget, time limitations, or access to specialty grocers. These recipes re-create some of your favorite flavors, but the processes are simple and the ingredients are super common. I know it is going to be such a cool resource for so many people!
The whole goal of The Healing Kitchen is to make the AIP super accessible, which meant both creating the right type of recipes but also presenting the Autoimmune Protocol in a new, simpler way than The Paleo Approach (from a much more guttural, nutrient-focused, common sense and quasi-political perspective with a little seasoning of science!). The 104 pages of introductory material before the recipes even start include an entirely new outline of the Autoimmune Protocol, including some material that wasn't covered in The Paleo Approach, written for a general audience.