When we're little, the holidays seem like a magical time full of warmth and wonder. All that delicious food just appeared on our tables, ready to be devoured! But as we age, many of us come to see the holiday season as a source of stress. Between family obligations and uber-tempting-but-less-than-stellar food choices, by January we're often left feeling sick and tired (literally!).
This holiday season, know that it's totally possible for us to meet our health goals while enjoying your traditions! You'll just need to employ a few of my favorite tricks for staying on track.
*NEW* The Gut Health Cookbook!
The Gut Health Cookbook is fantastic! Thank you for researching and creating The Gut Health Cookbook! Such wonderful recipes! I'm so excited to try them all! -Sue
The Gut Health Cookbook puts the 20 Keys to Gut Health into practice with:
180+ recipes featuring 61 gut health superfoods

Gut health food lists

Why's behind each gut health superfood
Get instant digital access for $27.99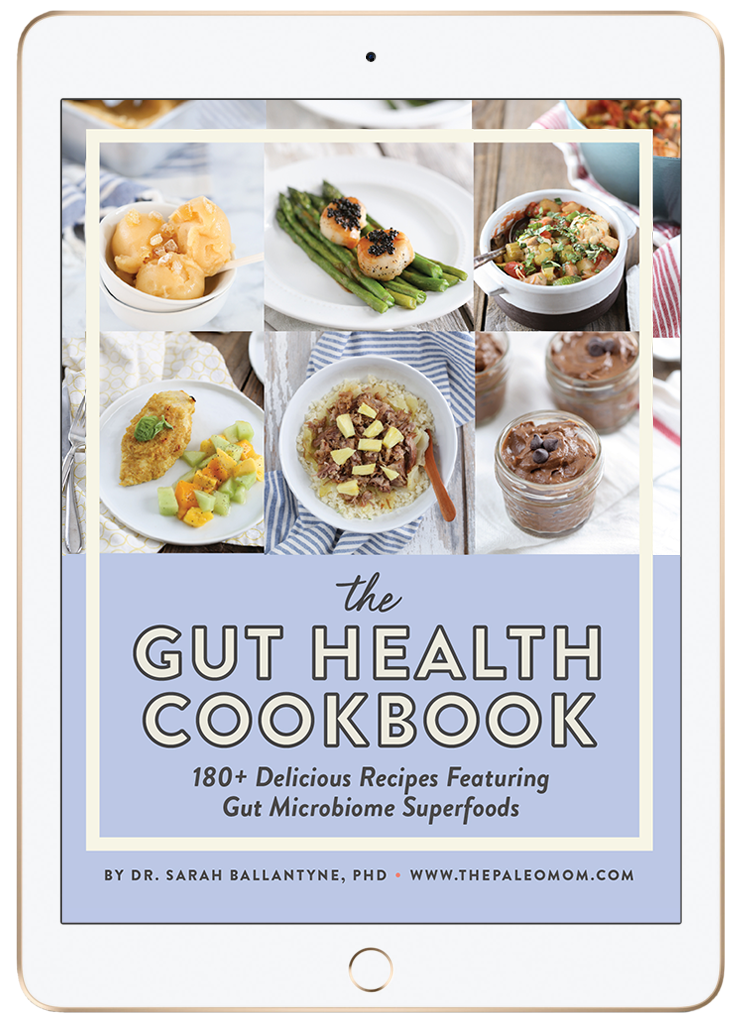 1. Paleo On The Go
Whether you're following a healing diet like the AIP or focusing on your health with a standard Paleo diet, adding shopping for high-quality ingredients and cooking everything from scratch to an already busy schedule filled with other holiday obligations can be just enough to pitch you over the edge! If you're looking for an easy alternative, Paleo On The Go is your ultimate answer!
My family has been stocking our freezer with Paleo On The Go meals for several years now. These pre-cooked high-quality meals arrive on my doorstep frozen, and I keep a stash of food for times when I'm sick, out of time or just looking for a little tv-dinner throwback. Some of our regular favorites include the AIP Pot Pies and PaleoTarts. Paleo On The Go has also been an immense help to the AIP community since they've stocked a full line of AIP meals (including some of my recipes!).
Paleo On The Go is also an incredibly useful timesaving hack for the holidays. Serve their delicious Carob Slim Mint or Paleo Chocolate Chip cookies to guests and skip the holiday cookie stress! Or, grab a batch of Paleo Tarts for a special Christmas morning breakfast for your kiddos. Yiddish Kitchen Bagels make a fantastic grab-and-go breakfast when time is short before shopping. Paleo On The Go can also help with fancy holiday dinners! Impress your guests with Shepherd's Pie and finish the meal with Pumpkin Pie. And don't forget to balance out your indulgent choices with some of POTG's broth!
2. Make Your Own Desserts
I bet if we took a poll right now, at least 75% of us would vote for DESSERT as the best part of any holiday feast. I know I would! When I first went Paleo, figuring out a grain-free, dairy-free dessert seemed nearly impossible. When I added in the restrictions of AIP, I felt totally lost. But we don't need to feel that way! There are plenty of grain-free treats out there to satisfy any holiday craving. And sure, they'll generally require you to get in the kitchen and make things from scratch—but being able to indulge in something that won't set us back is totally worth the work!
The Ultimate Support for Your AIP Journey!
Dr. Sarah Ballantyne has delivered an exceptional course and I highly recommend this to anyone looking to improve their health. There is something for everyone. It was extremely helpful and worth the investment. -Marie Schlichtig
The AIP Lecture Series is the ultimate Autoimmune Protocol educational experience! Learn directly from Dr. Sarah!
6-week online course
42 on-demand video lectures
dozens of printable guides
self-discovery exercises and action steps
online forum and guided discussions
support and guidance from Dr. Sarah Ballantyne!
The next session begins January 18th, 2021.
Register now to get bonus instant access to the Gut Health Fundamentals online course!
A couple recent innovations have made grain-free and AIP baking really shine over the last few years. My favorite is Otto's Cassava Flour, which is a fabulous grain-free flour substitute that's suitable for the Autoimmune Protocol. Some of my favorite treat recipes using Otto's include:
Gelatin is another fabulous way to sneak more nutrition into our treats this holiday season. In some cases, it can also be used in place of eggs! My favorite treats featuring gelatin include:
Of course, there are classic holiday treats that we all love because of their nostalgia factor. I've worked hard since almost the beginning of my Paleo journey to recreate these fabulous fall flavors. These are some of my favorite recipes:
3. Smart Lifestyle Choices
One of the most important aspects of staying on track during the holiday season is also the sneakiest. Our lifestyle choices have a huge impact on our food choices during this time, and we can either help balance out our indulgences (ramping up sleep) or increase our inflammation (going overboard on alcohol).
In case you haven't noticed, I'm a huge fan of the healing power of sleep. It might be the single best tool in our arsenal when it comes to exercise recovery, weight loss, beating cravings, and a whole host of other health-promoting factors. That said, I know the holidays can be a time of great stress and that sleep might fall to the bottom of the to-do list. Between parties, family gatherings, school events, holiday breaks, cooking, guests and…well…you get the picture. The fact is that you can absolutely set yourself up for success by getting an adequate amount of sleep every night. This will not only help regulate your metabolism, but lower your cravings and help you pay attention to your body's hunger signals. Sleep really is the answer to generating more self-control! If you struggle with sleep, consider taking on a 14-Day Sleep Challenge with Go To Bed before the season gets under way!
Alcohol, especially when combined with lack of sleep, can also help derail our health-eating efforts during the holidays. We're less inhibited when we drink, meaning we might not keep our health goals in mind as we're faced with temptation. And let's not even discuss the foods we might prefer AFTER a night of drinking. One of my favorite alternatives is a mocktail! Non-alcoholic drinks based on sparkling water, cider or even kombucha (ginger and cranberry flavors are particularly festive!) can help us navigate a social gathering with a drink in hand (and nothing nasty to look forward to in the morning!). There are several delicious mocktail recipes in The Healing Kitchen.
Of course, a glass of wine, a cocktail or even a gluten-free cider might not be problematic for you, and I totally support that truth! Just be sure to drink plenty of water between drinks and eat a nutrient-dense and protein-filled meal beforehand to help offset any negative effects.
Finally, don't give up on your exercise routine just because of the business of the holidays. You might try scheduling your workouts ahead of time, consider working with a trainer to stay on track or enlist the help of a workout buddy who shares your goals. Exercising outside is even better because it helps regulate our circadian rhythms, which may have a positive impact on our hunger hormones and definitely improve sleep. Try taking a simple 30-minute walk with your family after you enjoy a delicious meal!
The Gut Health Guidebook!
The depth of information, practical tips, and the accessible way Dr. Sarah shows me how to apply complex science to improve my health is truly remarkable. -Wendy
The Gut Health Guidebook is the culmination of 6 years of research. This unprecedented deep dive into the gut microbiome delivers:
A new diet for gut health, built from the ground up

Essential gut microbiome superfoods

20 Keys to gut health
Get instant digital access for $27.99
The holidays don't have to mean "falling off the wagon." With these three simple strategies in mind, you'll be set up for success and ready to make the most of the season!
Save
Save
Save