Since I began my Paleo journey 5 1/2 years ago, I've found that building a Paleo pantry is absolutely crucial to my continued success. The ease of grabbing a simple snack, having a key ingredient on hand or making a healthier dessert choice can save us not only time, but energy too! I've recently fallen in love with Thrive Market's pantry offerings and have been taking advantage of their fabulous discounts to restock my pantry! Below are a few of my Paleo pantry staples—all available at 20-25% off when you sign up for a Thrive Market membership!
Thrive works kind of like an online Costco, but with the quality health-conscious products you'd expect to find at Whole Foods or Sprouts. Simply order your merchandise, save a bundle of money, and everything is shipped to your door. It's seriously so simple! Plus, they have whole sections dedicated to Paleo and gluten-free diets, and carry plenty of home, kids and personal care products too.
Below are a few of the things my pantry just can't live without. Check out my favorites and head over to Thrive to see if they stock yours (my money's on "yes.")!

Simple Mills Almond Crackers (Sea Salt flavor)
My whole family has come to adore these little crackers from my favorite Simple Mills. In the past, my daughters have enjoyed rice-based crackers for a snack. They tolerate these well, but they don't always have stellar ingredients (wax? seriously?), so I try to keep them around as only an occasional indulgence. Simple Mills Almond Flour Crackers, on the other hand, have a simple list of whole-food ingredients and a super tasty and satisfying crunch! They're a perfect addition to lunch boxes (just make sure to put them in an air-tight compartment or baggie, as moisture softens them) and a great base for paté, guacamole or aioli.
Simple Mills Pumpkin Muffins
Do you see a pattern here? I love Simple Mills mixes! Though I'm a big fan of from-scratch baking, we've all found ourselves in a pinch and without time to bake it all from the beginning. Before Simple Mills, I longed for clean boxed baking mixes. Since finding them, I've even created a chocolate cake for my daughter's birthday, made their pizza crust as a flatbread side for soup, and have really enjoyed their range of muffin and cupcake mixes! These are a perfect, lightly-sweetened option for weekend mornings or lunchbox treats. Really, I don't think pumpkin ever goes out of season!
Thrive Coconut Oil
Coconut oil is one of the most versatile fats in existence. Cooking, baking, moisturizing, cleaning, removing makeup—we could never run out of uses for this all-natural saturated fat. Thrive's in-house blend is a fantastic low-cost organic option with a light coconut flavor that's especially good in baking or for personal care applications. Really, this might be my #1 pantry staple!
Primal Kitchen Avocado Oil
Avocado oil is the basis for some of my favorite salad dressings thanks to its relatively neutral flavor. But, it's also great in hot applications because the smoke point is incredibly high (480° F). That makes it perfect for frying! The nutrition included in avocados is also preserved really well through the cooking process. I love the Primal Kitchen brand because I trust Mark Sisson's attention to detail and dedication to creating the highest-quality product from fantastic sources.
Fatworks Lard
Lard, another of my favorite fats, might seem a little intimidating to Paleo newbies. It's actually a delicious way to add nutrition (like Vitamin D!) and fat to veggies or even pie crusts! It's my favorite fat for deep-frying, oven fries, and makes great tostones too! The clean flavor profile of Fatworks Lard, which comes exclusively from free range pastured pigs, is porky and perfect. Make this your intro to animal fat!
Pure 7 100%
One hundred percent dark chocolate? Don't knock it 'til you try it! For those of us who have struggled with portion control and sugar cravings, this chocolate is a great way to satisfy cravings without setting us down a path of overindulgence. Chocolate is actually a great source of minerals like magnesium, and in moderation is a perfectly healthy food. I like Pure 7's other honey-sweetened chocolates too, but the 100% is my secret weapon!
Jackson's Honest Sweet Potato Chips
Jackson's Honest has created the ultimate Paleo potato chip using sweet potatoes, coconut oil and mineral-rich sea salt. My kids love sweet potato chips, so I was ecstatic when I could finally find a brand that didn't include more fragile fats like sunflower oil. Little did I know these chips are fabulously delicious, too! My kids love them (they're a lunch box staple!) and I love stealing them from my kids. LOL!
Primal Kitchen Greek Vinaigrette with Avocado Oil
As I mentioned above, I'm continually impressed by Mark Sisson's incredible line of Primal Kitchen condiments and ingredients. His salad dressings are equally delicious, and this Greek blend uses avocado oil, making it not only a tasty dressing but a perfect marinade for baked or sautéed meat. You'll get a helping of herbs in this unique blend, too. Yay for nutrient density!
Nutrivore Weekly Serving Matrix
An easy-to-use and flexible weekly checklist
to help you maximize nutrient-density.
The Weekly Serving Matrix is very helpful! I've been eating along these lines but this really helps me know where to focus vs. which foods serve a more secondary role. It's super helpful and has taken a lot of worry out of my meal planning. Thanks!

Jan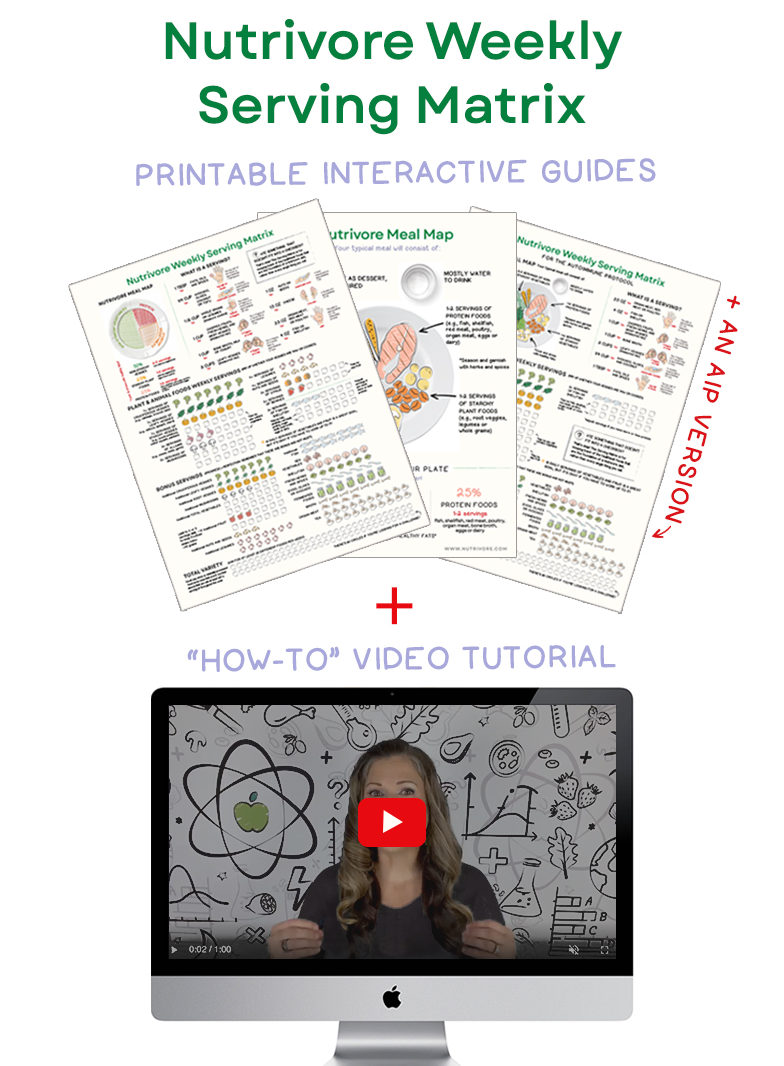 Thrive Coconut Aminos
Coconut aminos are the secret to great Asian-style Paleo cooking. Coconut aminos are made from the sap of coconut trees and provide an alternative to soy sauce (or soy aminos, if you're familiar with the gluten-free Bragg's brand product). These ingredients definitely add a slightly sweet yet savory umami flavor to any dish, so I love including them in many of my recipes; some of my favorites are Teriyaki-Inspired Poached Salmon, Honey-Garlic Chicken Wings, and Japanese-Inspired Whitefish and Noodle Soup.
Red Boat Chef Cuvee Fish Sauce
Like coconut aminos, fish sauce is a fantastic addition to Asian-inspired Paleo dishes. It's basically a bottle full of umami, that elusive quality that makes savory dishes so delicious. Red Boat is one of the only clean fish sauces I've found, and its ingredient list doesn't include sugar. Their special issue Chef's Cuvee sauce is the top-of-the line and just a few drops adds incredible flavor to everything from salads to scrambled eggs. I seriously use this stuff in just about everything!
Inka Plantain Chips (in the plain green packaging)
Plantain chips are the perfect AIP chip. They're salty, starchy and crunchy, slightly denser than sweet potato chips and hold up really well to dipping. My co-author Alaena of Grazed and Enthused even created an AIP fried chicken recipe using a plantain chip batter for our book, The Healing Kitchen! Just be sure to pick up the simply salted ones in the green packaging—not all other Inka Chips flavors are AIP.
Crown Prince Oysters
Oysters are little powerhouses of nutrition. They are amazing sources of vitamin D, vitamin B12, copper, zinc, and selenium—making them a great food for supporting skeletal health, producing red blood cells, maintaining nerve cell and immune health, supporting thyroid function, and protecting the body against damage from free radicals (see "Oysters, Clams, and Mussels, Oh My! Nutrition Powerhouses or Toxic Danger?"). I like to buy canned, smoked oysters from Crown Prince because they're easy to eat, relatively cheap and super tasty! They're perfect paired with some Inka Plantain Chips!
Himalayan Pink Salt
This is the salt I keep in my house and use most frequently in my cooking. One of the reasons why we love unprocessed salt is that it doesn't just pack a punch, micronutrient-wise, but it allows us to avoid some of the consequences of industrial processing (see Is Salt Paleo?). Table salt is sodium chloride that is oftentimes fortified with iodine (the result of public health efforts to reduce goiters, in part because we only need a trace amount of iodine to be functional). Avoiding white table salt is pretty commonplace in the Paleo community, but not because of this fortification; rather, it's problematic that aluminum-based compounds are used as anti-caking agents in these salt products. Opting for Himalayan pink salt allows us to opt out of these additives while getting even more nutrition (like over 80 trace minerals!) in our Paleo diet! Woot!
Kettle & Fire Bone Broth
Bone broth is a staple in my kitchen, and that means it has to be a staple in our freezer. I make broth at home and freeze it in batches for cooking, pet food or just to sip. It's nutrient-dense, gut-healing and and an overall amazing substance (see The Health Benefits of Bone Broth). But lately, I've been turning to Kettle & Fire Bone Broth to make the process of getting in this superfood a little easier. It's shelf stable, yet contains all the nutrients and healing properties of traditionally-made broth. It's so well seasoned that I love just sipping it in a mug during the winter!
There you have it! Now take advantage of the awesome deal I've worked out with Thrive Market and head over to start stocking your own pantry!